Right after I posted about the details of how I came to quit my job and decided to start my own business, I wrote a post about my plans to register my biz name. However, I took it down almost immediately and I hope no one noticed this, because if anything, I don't want to seem inconsistent. But I quickly realized I wouldn't be able to cross any biz details off my list that week, because I would be going to Phoenix. I got a little ahead of myself because I was so ready to move ahead and cross things off my infamous lists!
The good news is that I have been able to take some small steps these past couple of weeks! I bought my domain name from godaddy.com and it was a really easy process, besides the site trying to up-sale me on everything---taking a domain from around $10 to $125. I have registered my business name (to be revealed at a later date!) with the state of Colorado and the federal government and I now officially have a tax ID (yea to deductions). The only major thing I have left to do is obtain a business license, so I'm planning on working on that today, if I can tear myself away from my google reader long enough (I think I have officially subscribed to too many blogs, but I just.can't.help.it!). I've also hired someone to work on my logo and I am pretty sure I will go through
bludomain
for my website (their templates are crazy cheap and pretty good looking)...has anyone had experience with this company? I'd love to hear about it.
Here's an example of one of bludomain's $100 templates: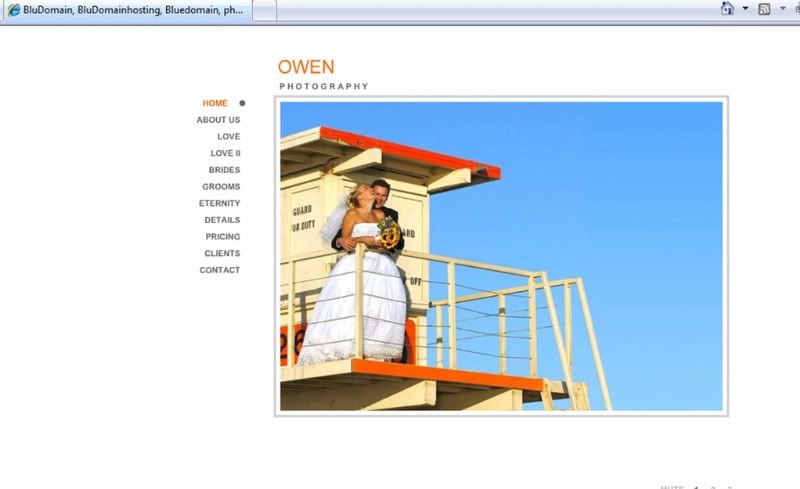 And to top off all of this momentum, I officially have my first day-of-coordination client in March! The couple is having an Indian wedding but mixed with traditional American elements. I honestly can't wait to see how it turns out!
These last couple of weeks have been really productive and I'm happy to see that my business is becoming a reality.
Happy Tuesday, everyone. Have a great week!